Why Moscow Mules Are Served in Copper Cups?
December 29, 2016
No Comments
Any avid drink lover will tell you that drinking out of a copper mug offers a cool sensation which can't be compared with anything else. Mugs made of copper become cold at very moment you pour the drink inside them.
This swift change in temperature offers a cold feeling as you take your first sip of a Moscow Mule.Copper is one of the best metals at protecting cold temperatures of liquid. As such, many have found a Moscow Mule to be one of their favorite summer time drinks.You can avail finally an authentic copper mug in online stores.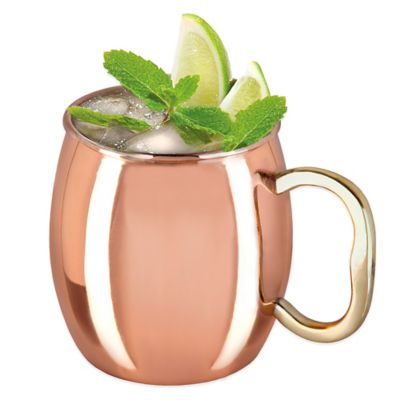 The handle on a mule mug of the Moscow mule also preserves the drink cold by making sure your hot hands stay away from the walls of the cup – leaving your chilled cocktail safe inside the mug.

Temperature certainly isn't the only reason why are Moscow Mules offered in copper cups. Using a copper mug will actually ensure your cocktail tastes better.

A mule is made up of ginger beer, vodka, and lime. When the vodka touches the walls of the mug, a chemical reaction is said to occur and the copper begins to oxidize a bit. This boosts the flavor of the vodka and gives your drink a unique aroma.

Tags : copper mugs | copper mugs for moscow mules | copper mule mugs